| | |
| --- | --- |
| | AN OPEN APPEAL TO BHARATIYA JANATA PARTY AND NDA LEADERS |
It is indeed a national shame that Sonia Gandhi is heading towards becoming the Prime Minister of India. No, the people of India have not elected her. Congress has got just about one fourth of the parliamentary seats. Considering that the voting percentage is about 50 per cent, it means that just about twelve per cent of the country's population has voted in favour of Congress. An overwhelming majority of the country's population does not support Sonia Gandhi as PM. Yet, she may become the Prime Minister, only because of the fissures in Indian political class.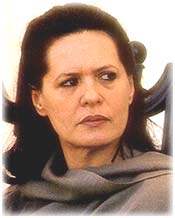 The opposition to Sonia has often been voiced on account of her being born in Italy. On the other hand, her supporters argue that she has lived for much longer in India than she did in Italy. The issue is neither her foreign origin nor duration of her stay. The issue is her domicile, a concept that is fundamental to private international law (For a detailed discussion of the concept, please visit INDIAN CITIZENSHIP - LESSONS FROM GERMANY ). Sonia Gandhi is domiciled even today in Italy and not India. An Indian who goes to USA acquires an American accent within a couple of years, but even after decades of living in India, Sonia Gandhi cannot speak with an Indian accent. She is not fluent in any Indian language. She owns a residential house in Italy and not in India. She has done nothing to prove that her heart is in India and not in Italy. It is not surprising that the news of her likely coronation has led to celebrations in Italy.
It is clear that Sonia Gandhi cannot be put in the same class as Mother Teresa, Sister Nivedita and Annie Besant who put their hearts into India and hence were domiciled in India. Sonia Gandhi, in spite of her certificate of citizenships, remains at heart an Italian. Hence, her ascendance by deft manipulation to the Prime Minister's chair must be opposed by each and every right-thinking Indian, irrespective of the political ideology that one may subscribe to.
In 1977, when emergency was relaxed, the leaders of Jansangh and all non-Congress-non-Communist parties had acted in national interest and had dissolved their parties to form one party in national interest. The challenge that confronts national polity today is more critical than the one in 1977. At that time the danger was to democracy. Today our nationhood and our existence as a sovereign country are at stake.
In this historical moment, we must all join hands and submerge our petty personal interests and egos for national good. Bharatiya Janata Party (BJP) and National Democratic Alliance (NDA) must play their role by rising above the gloom and shock that seems to have descended on their leadership. Let them not forget that they, even now, have about 185 Members of Parliament.
We appeal to the leaders of BJP and NDA to offer unconditional outside support to any non-Congress government. If they agree to support Mulayam Singh Yadav or Somnath Chatterjee or Jyoti Basu (leaders of Left Front / Samajwadi Party) for Prime Minister's post, this will effectively block Sonia from becoming the PM. This may be a bitter pill to swallow but this is a small sacrifice to make in the national interest. BJP should remember its glorious past when Jansangh leadership had decided to dissolve the party.
BJP can also take solace from the fact that it was not too long ago when Mulayam Singh had put his foot down to prevent Sonia from becoming the PM. Even during the recent elections BJP leaders were saying that Samajwadi Party is close to them ideologically. Of course, one must also not forget that even during 1977, communists (excluding CPI) had worked with Janata Party.
For decades, politics in India had been split into two forums - Congress and anti-Congress. In recent years, Congress has tried, with considerable success, to redefine the country's politics into pro-BJP and anti-BJP. Time has come for BJP to catch the bull by its horns and rekindle the flame of anti-Congressism.
Anti-Congress sentiment is, even today, stronger than anti-BJP feelings. Left parties and Socialists have won after bitter fights with Congress in West Bengal, Kerala, and Uttar Pradesh. Left front and socialists supported by NDA will add up to more than 285 seats. In addition other groups like DMK and Sharad Pawar's NCP may also join in soon. This will take the tally well beyond 300, leading to a stable government.
History demands that BJP leaders rise to the occasion and lead an initiative for a government that reflects the emotions and aspirations of the people of India, instead of lying low and giving knee-jerk reactions. If BJP and NDA fail to do what is well within their power to prevent an Italian domicile from taking over the country's topmost post, future historians will surely apportion the blame equally between BJP, NDA, leftists and socialists.
We hope that you (BJP and NDA leaders) will kindly pay heed to this appeal and do all that is within your power to stop an act of national shame.
SAMARTH BHARAT

Note:
I have drafted this appeal but I do not claim to be its author. The appeal is an expression of the sentiments of many friends who have spoken to me in the past few days. I have only played my role by putting their sentiments in words.
If you agree with the appeal, please send copies of the appeal to every single BJP or NDA leader / follower you know.
Anil Chawla
16 May 2004
Please write to me your comments about the above appeal.


anil@samarthbharat.com


hindustanstudies@rediffmail.com


ANIL CHAWLA is an engineer (and now a lawyer too) by qualification but a philosopher by vocation and a management consultant by profession.

Website developed and managed by



MF-104, Ajay Towers, E5/1 (Commercial), Arera Colony,
Bhopal - 462016 INDIA



© All Rights Free