INNOCENCE AND GUILT

Author - Anil Chawla
Ashu was and is a good friend. A decade ago, Ashu was a struggling entrepreneur in his late twenties. He, along with his three brothers, was trying to ensure survival of his small business with practically no financial support from his father who had just retired from Government service.
Ashu had taken space on rent, to store goods, in a building owned by a well-connected shady journalist. Some dispute had sprung up between the landlord and Ashu. The landlord was creating one trouble after another for Ashu and his brothers. Ashu knew the officer-in-charge (TI) of local police station. Ashu struck a deal with TI. As per the deal, Ashu would get the landlord to police station and the police would beat up the landlord in return for a fee from Ashu. Probably, the police would have taken some money from the landlord also for stopping the bashing.
After the arrangement was finalized, Ashu and his brothers waited for an opportune moment. On one afternoon, they came to know that the landlord had broken a wall separating their area from that of the landlord. They rushed to the place. A scuffle followed. Nothing serious, but one of the brothers received a minor injury on the arm. The brothers, however, managed to put the landlord and his son, a young man in early twenties, into their van. They drove to the police station and handed over the landlord and his son to the police.
After handing over the father and son, the brothers went about their business as usual. One of the brothers went to the nearby Government hospital to get treatment for the injury on his arm. Others started attending to daily business routines. They were confident that the police would act as per the arrangement and, in the next few hours, the landlord would be taught a lesson that he would not forget easily.
At the police station, the father and son were duly locked up. Soon the police started on the assignment of fulfilling their obligations as per the arrangement with Ashu. They had just about delivered one or two slaps to the landlord when, to their horror, he collapsed. Nobody knows what actually happened. As per a close friend, who is a cardiologist, the landlord would have had a massive cardiac attack and died on the spot.
The policemen on duty were perplexed. They could not understand that this was a cardiac attack. They had got into this arrangement to make a few hundred rupees. Now they had a custody-death on hand - something that they had not bargained for. A smart policeman decided to act. He picked up a large screwdriver lying nearby and stabbed it through the heart of the landlord's limp body. The landlord's son, who was the only witness of the episode, was told to speak only as directed else he would face a fate similar to that of his father. The son had been through a nightmare and was in no frame of mind to resist the police.
Police swung into quick action. Ashu and his brothers were arrested. Newspaper reporters were called in. Police informed newspapers that the brothers had murdered their landlord with a screwdriver and had fled after dumping the body in the police station. Senior police officers were soon patting the TI for prompt action in arresting the criminals. The victim's son corroborated the police version of events.
Next morning all newspapers in the city were full of news about the ghastly murder. Editorials were written about the daredevilry of criminals and about the need for capital punishment for such criminals. Media was against Ashu because a journalist had died.
In the next few months, Ashu's business collapsed. His father, mother and sister struggled to get lawyers and ran from one court to another. Family sold off property to pay exorbitant fees to lawyers. The crime was so ghastly that it was impossible to get bail. Lower court, Sessions court as well as High court rejected the bail application. Atmosphere in the courts was so strongly biased against them that it seemed certain that they would either be hanged or at least spend the rest of their life in prison.
At this dark hour Ashu clutched on a last straw. He wrote an SOS letter from his cell in the prison to a prominent politician for whom he had done some work. Fortunately, the political leader heeded Ashu's call for help. Negotiations were conducted with the victim's son, who demanded a heavy price for changing his statement. Threats, physical roughing up, pressures and above all tact were used by the leader and his cronies to get the son to agree to a reasonable price.
A compromise was worked out between Ashu and the landlord's son. Ashu agreed to vacate the premises and pay some money to the landlord's son who would, in turn, give a favourable statement before court. The son was still scared of the police. There was apprehension that the son might change his mind on the way to the court. To guard against such a possibility, on the day of hearing of the case in the court, a bunch of toughies was posted on the gate of the court. The son was told that the toughies were standing to either welcome Ashu, if released by court, or else to finish off the son in case he went back on his commitment.
Things went as per the plan. The son denied all his statements given earlier to the police. The magistrate acquitted Ashu and his brothers in the absence of any evidence. The police closed the file about the death in their custody and carried out no further investigations. Officially speaking, Government does not know till today the cause of death of that journalist.
This true story illustrates the way police and judicial systems work in India. I had almost forgotten about this sad incident. It came back to my mind a few days ago when I read the debate about death penalty of Dhananjoy Chatterjee.
Dhananjoy was hanged for much less evidence, than what had been gathered up against Ashu. As reported in the media, the only evidence against Dhananjoy was circumstantial. Fourteen years in jail and elaborate trials through various courts had failed to convince Dhananjoy about his guilt. Even on the day of being hanged, he told the hangman that he was innocent.
I shudder to think what would have happened to Ashu and his brothers if they did not know the politician who saved their lives. Probably Dhananjoy had no recourse to such a last straw. Probably, he could not even afford an expensive lawyer. Ram Jethmalani, a famous criminal lawyer, I am told, charges more than Rs. 100,000- for a single appearance in a criminal case. Would the judgement of the courts have been any different if Dhananjoy had got Jethmalani to argue his case?
In the judicial system that India has inherited from the British, it is not the duty of a court to arrive at the truth. A judicial officer is supposed to listen to the lawyers of the two sides and give a judgement based on the lawyers' presentation. If a lawyer makes a mistake or is incompetent, the lawyer's client suffers. If a court orders an accused to be hanged, and a higher court reverses the orders of the lower court, there is no compensation payable to the accused for having to go through a trauma of fear of death. The lower court, delivering death penalty, is not even pulled up. In the famous Indira Gandhi assassination case, one of the accused was acquitted by Supreme Court after Ram Jethmalani argued his case. This innocent person was sentenced to death by a lower court and the sentence was confirmed by High Court. Apparently, the lawyers in the lower courts had not argued his case well. No, we cannot fault the Honourable judges lest we be guilty of contempt of court.
The debate in media about Dhananjoy's punishment has presumed that Dhananjoy was indeed guilty since he was pronounced to be so by the courts. Knowing the Indian legal system one cannot be so sure.
Indian constitution provides two safety valves in the form of articles 72 and 161. Under article 72 President has the power to grant pardon and under article 161 Governor of a state has the power to grant pardon. Dhananjoy sought pardon both from President and Governor, but his mercy pleas were turned down. Government of India has apparently reserved article 72 for grant of mercy to terrorists and hardened criminals whose cases are pleaded by foreign powers. Foreign nationals, who were convicted in the famous Purulia arms drop case, were pardoned even though they did nothing to demonstrate remorse. Similarly, in extradition proceedings from European countries (recent case being of Abu Salem and his associate Monica from Portugal) Government of India routinely gives undertakings that the President will use his powers under article 72. If Dhananjoy, during his stay at prison, had made friends with some cronies of Dawood, he could have effected a jailbreak and fled to Portugal. After his arrest in Portugal, Government of India would have guaranteed a pardon from the President and he could have returned without any fear of death penalty.
By a combination of various Supreme Court judgements and spineless nature of successive incumbents, the President of India has been converted into a perfect rubber stamp. Even in the case of Dhananjoy, it seems that the President just referred the matter to Government and acted blindly on the advice received from Government. This is strange. Government is the prosecutor in any criminal case. The purpose of articles 72 and 161 is to provide a human touch to the judicial process, which is tied down with technicalities. If this human touch is to be subject to the orders of the prosecutor, the very purpose of mercy provisions is defeated.
It is ridiculous to argue that no mercy should be shown in cases where the accused has committed a heinous crime. This is against the spirit of the Constitution. A person is sentenced to death only in the "rarest of rare" cases for having committed heinous crimes. Article 72 (1)(c) specifically refers to "all cases where the sentence is a sentence of death". Obviously, the fathers of the Constitution wanted the President to apply his mind and heart like a human being without the technicalities that a judge is subjected to, when considering mercy petitions.
Pardon and mercy arise from human kindness. Viewed from that perspective no one could have deserved mercy better than Dhananjoy. He was poor. His conviction was based largely on circumstantial evidence that could well have been fabricated by someone else who committed the offence, but was powerful and rich. He had no previous record of crime. He did not have the services of good, expensive lawyers. His behaviour in the jail gave no indication that he was a hardened criminal. He had languished in jails for almost fourteen years under fear of death. His family (including his wife) remained convinced that he was innocent. Generally speaking, in case of a rapist, his wife refuses to support him. His wife, after his death would have would have to spend the rest of her life as a destitute widow. India has no social security system to support such women. President should have weighed all these factors before rejecting Dhananjoy's petition for mercy. It would well have been in order for the President to grant a personal hearing to Dhananjoy and his family to make sure that there was no chance of the offence being repeated by Dhananjoy and that it was a fit case for mercy. Alas, the President did nothing of the sort.
The present incumbent of Presidential office specializes in giving lofty speeches. He quotes from holy books of all religions. He must be aware that one key subject about which all religions have preached is kshama or pardon or forgiveness. Of course, he is constitutionally correct in following the advice of attorney general to be a perfect rubber stamp. But, one's duties as a moral human being are higher than one's obligations as a rubber stamp. President Abdul Kalam and Governor Viren Shah failed to forgive when the person seeking pardon was poor, had not been defended competently in the courts, was least likely to repeat the offence and had a dependent wife. They failed in their essential duty of being kind and forgiving. They failed to be human.
May God forgive Abdul Kalam and Viren Shah!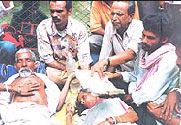 Anil Chawla
20 August 2004
Almost one month after writing the above article, the author had written an article Crime And Punishment about role of punishment in prevention of crime. If you have enjoyed reading the article on this page, you may like to read that article.
Please write to me your comments about the above article.


samarthbharatparty@gmail.com


ANIL CHAWLA is an engineer (and now a lawyer too) by qualification but a philosopher by vocation and a management consultant by profession.

Website developed and managed by



MF-104, Ajay Towers, E5/1 (Commercial), Arera Colony,
Bhopal - 462016 INDIA


© All Rights Free